Quality Policy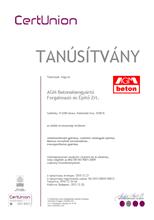 Quality policy
AGM Beton Zrt. is committed to manufacturing and constructing reinforced concrete products that are technically justified, meeting the given customer requirements and fulfilling the highest quality criteria in the fields of Structural and Civil Engineering.
In order to comply with arising customer demands and the highest quality standards in all relevant areas we have made the following steps:
We have established, operate and continuously develop our quality assurance system according to the international standard ISO 9001:2000.
For the benefit of our stable and steadily growing clientele, we maintain a flexible price policy adapted to market demands. We assure on-time delivery in the quality required.
Serving customers' needs at a high level of standard requires a stable network of subcontractors; we work in close cooperation with them on a win-win base regularly evaluating their activities.
Product quality is guaranteed using the following main principles : efficient resource management, flexibility in meeting customers' requirements, continuous supervision of work by the management, modification in processes resulting from customers' feedback and full compliance with the quality system requirements.